Camera makers invest quite a lot of effort into producing accurate, pleasing colors for their cameras.
For instance, when you buy a Nikon, Canon, Fuji or Sony camera, you receive a number of color "themes," professionally known as "color profiles". Each color profile represents a different interpretation of how color should appear.
A camera profile is derived from the physics of the camera's sensor, from lighting conditions, and from subjective color perception of the depicted scene, such as Landscape or Portrait and the "color policy" of the camera, such as Faithful, Neutral, Standard or Vivid.
Camera Profiles and Camera Raw
Color profiles are applied as part of the development process of RAW files.
Each color profiles consists of two types of functions:

Functions that attempt to convert the sensor colors into a standard color interpretation (color-space), as objectively as possible.
Functions that attempt to make colors subjectively pleasing.
While the the first type of functions is a matter of physics and math, the second type is a matter of taste.
By default, Picktorial provides two color profiles for most supported cameras: Picktorial Neutral, which attempts to provide accurate colors with no functions of the second type, and Picktorial Standard, which is enhanced with functions of the second type to make colors more plausible.
Picktorial also supports color profiles in DCP format, so you can use color profiles from other vendors such as PSKiss and Adobe, or create custom color profiles calibrated to match a specific scene or your personal taste.
In other words, camera profiles create the initial color scheme of the image and determine the initial "look" of it. When you select a camera profile, you set the path of your personal processing and interpretation toward the desired final image.
Camera Profiles in Picktorial
When you open a RAW photo in Picktorial, you can use one of the pre-installed profiles.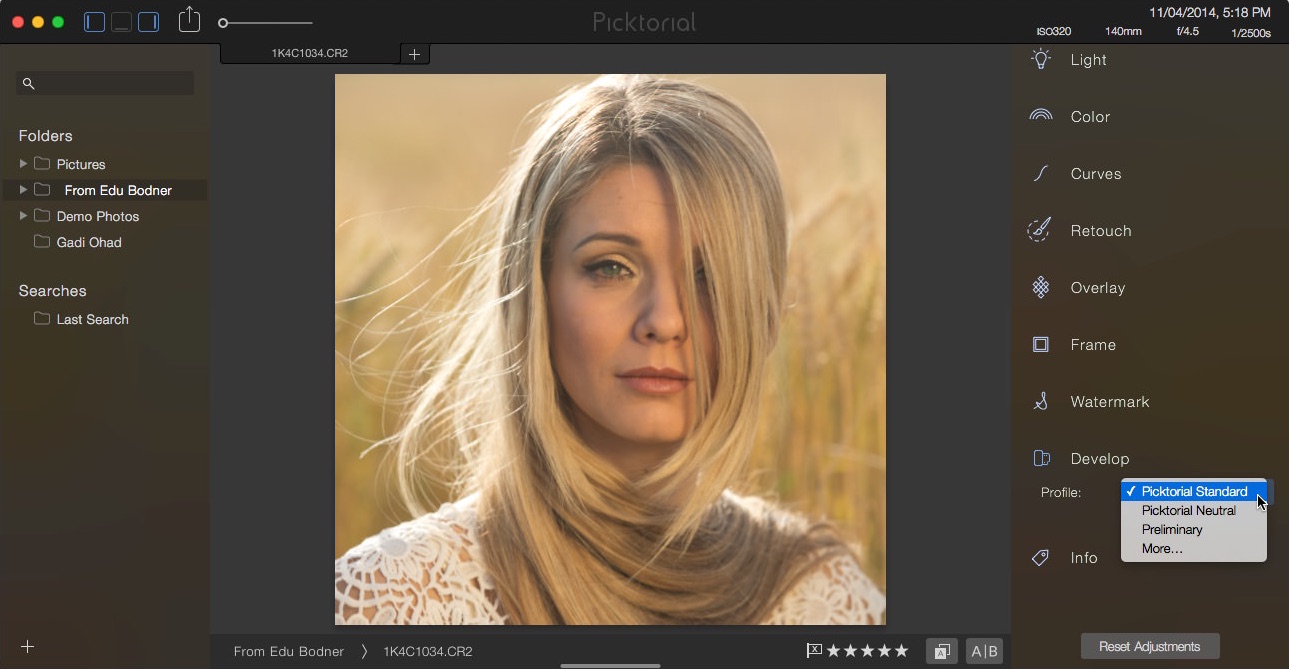 If you installed Adobe DNG converter, Adobe Photoshop or Lightroom, you can also access your camera model specific profiles:
1. In Picktorial - Go to Develop > Profile > More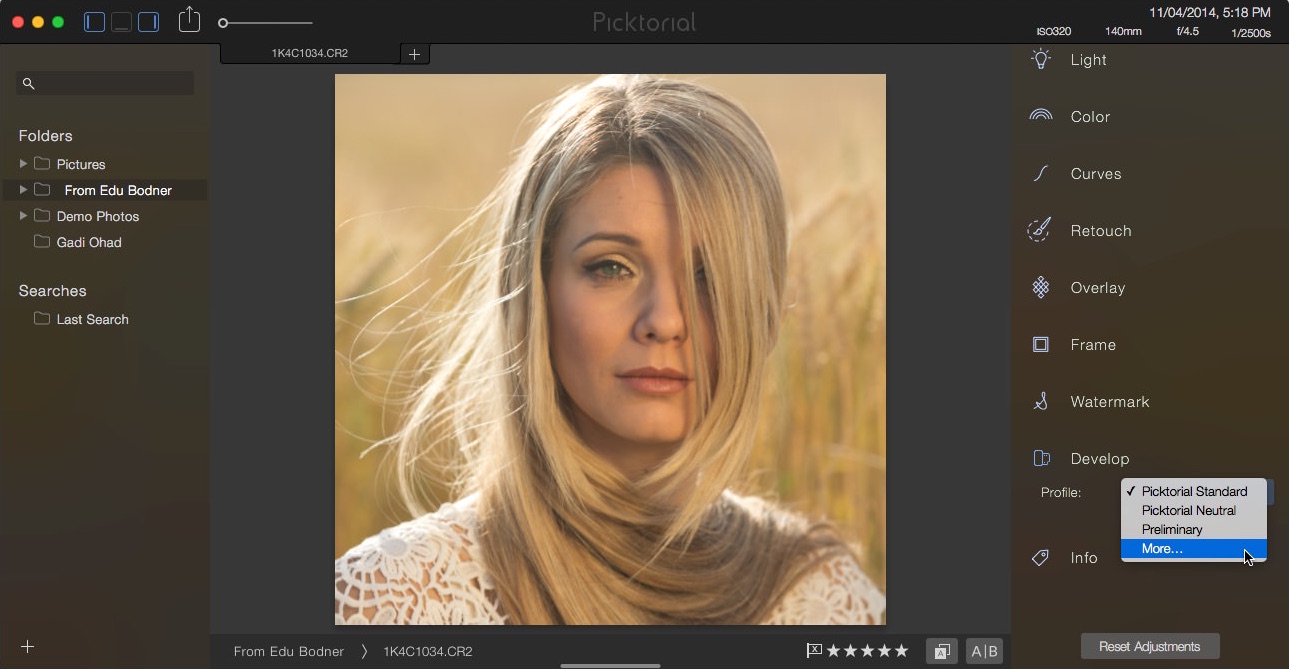 2. In the Camera Profiles Preferences window that opens, Click the + button on the bottom-left corner:

3. Navigate to: /Library/Application Support/Adobe/CameraRaw and click Open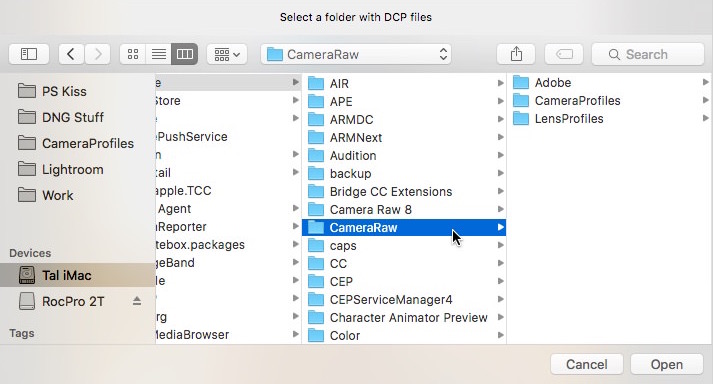 Close the Camera Profiles window: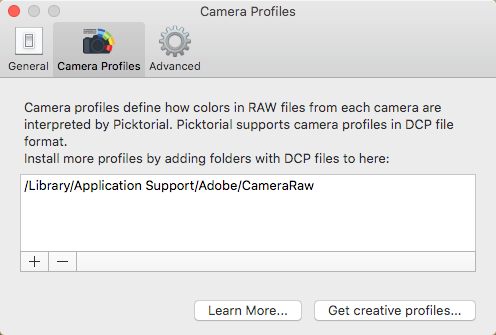 4. Quit Picktorial and re-launch it.
5. In the Develop > Profile menu, you will find your camera specific profiles (if they exist):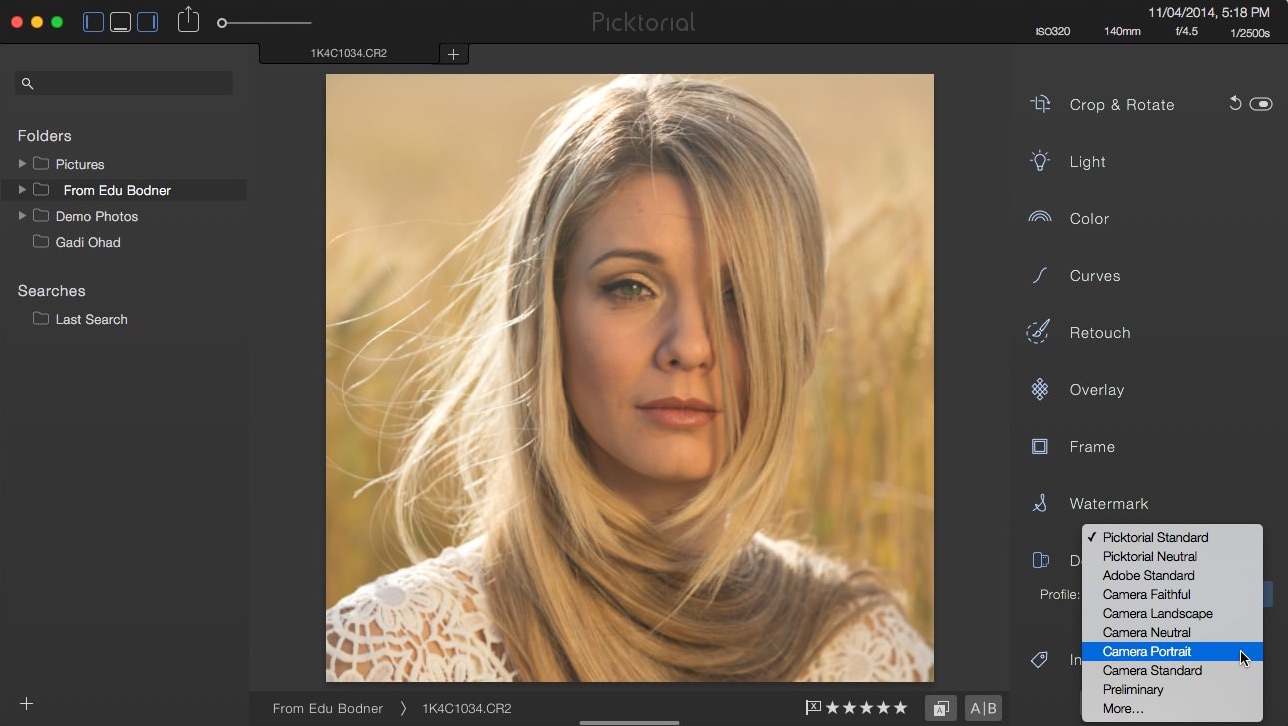 Cross Camera and Creative Profiles
You can expand your color options by installing other camera model profiles or creative profiles. Such profiles are offered by our friends at PSKiss.com.
To add creative develop profiles:
1. Select More from the Develop > Profile menu: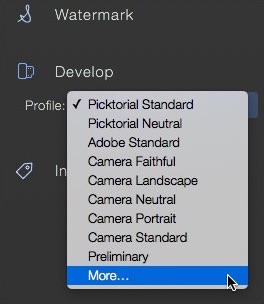 2. Click Get creative profiles… and select your preferred profile package that fits the camera you shoot with. Profiles by PSKiss are sold separately in the PSKiss store.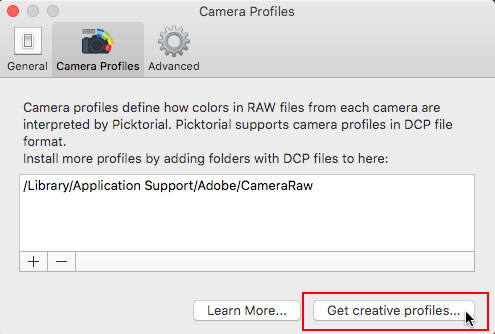 3. Copy the profiles to a folder on your local drive and add this folder to the list of profile folders.


4. Quit Picktorial and re-launch it.
5. In the Develop > Profile menu, you will find your camera creative profiles: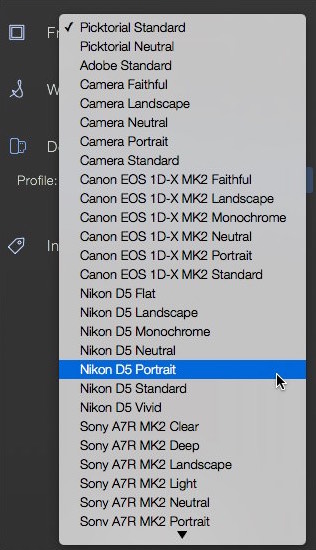 Creative Camera Color Profiles - Develop Different!
Expand your creativity with alternative color profiles.
Why settle for the default?
You will be surprised how many hidden colors are in your photo.
You will be surprised how far you can take your image, with just one click!
You can select alternative profiles of 2 groups:
1. Cross Camera Color Profiles
Cross Camera Color Profiles allow you to apply other camera brands to your Raw images, whether you use Canon, Nikon, Sony, Panasonic, Olympus, Pentax or any other camera. Cross Camera Color Profiles are offered in 2 packages:
The Classic Series for classic digital camera color look, such as Canon EOS 10D, Canon EOS 1Ds Mark 3, Nikon D2X, Nikon D3, Leica M8 and others.
The Full Frame for modern Full Frame digital camera color look, - Nikon D5, Canon EOS 1-Dx Mark 2 and Sony A7R Mark 2.
2. Creative Color Profiles
Apply creative adjustments before you need to do anything.
Now you can make your personal adjustments with Picktorial, on top of a creatively developed profile – for a faster workflow, better utilisation of Picktorial's tools, and much more flexibility.
Creative Color Profiles are offered in 2 packages:
Skin & Scenery Color - perfect for developing Portrait and Scenery photos. Contains:
Cool BrightUp – Recover from red flood light.
Dark Skin 1 – Designed for over exposed skin tone.
Powered Skin and Lips – More contrast in skin tone, accented lips color.
Velvia Touch – Extra vivid color - 'Fuji Velvia' film style.
Vintage 1 – Old style faded look.
Vivid Landscape Mode 1 – Extra boost to landscape colors.
Faces & Places Color - extending your Portrait and Scenery options. Contains:
Dark Skin 2 – Designed for dark skin people portraits.
Lights On – Removes led flood lights.
Man's World – Designed for men's portraits.
Tanned Bride – Special treat for those tanned brides and wedding guests.
Vintage 2 – Creates an old faded photo print look - excellent for detail recovery.
Vivid Landscape Mode 2 – Gives your outdoor photos a "film style" look.
We encourage you to experiment with different color profiles, and to find the ones you most enjoy using and make your pictures look their best. Please feel free to be in touch with any questions or comments